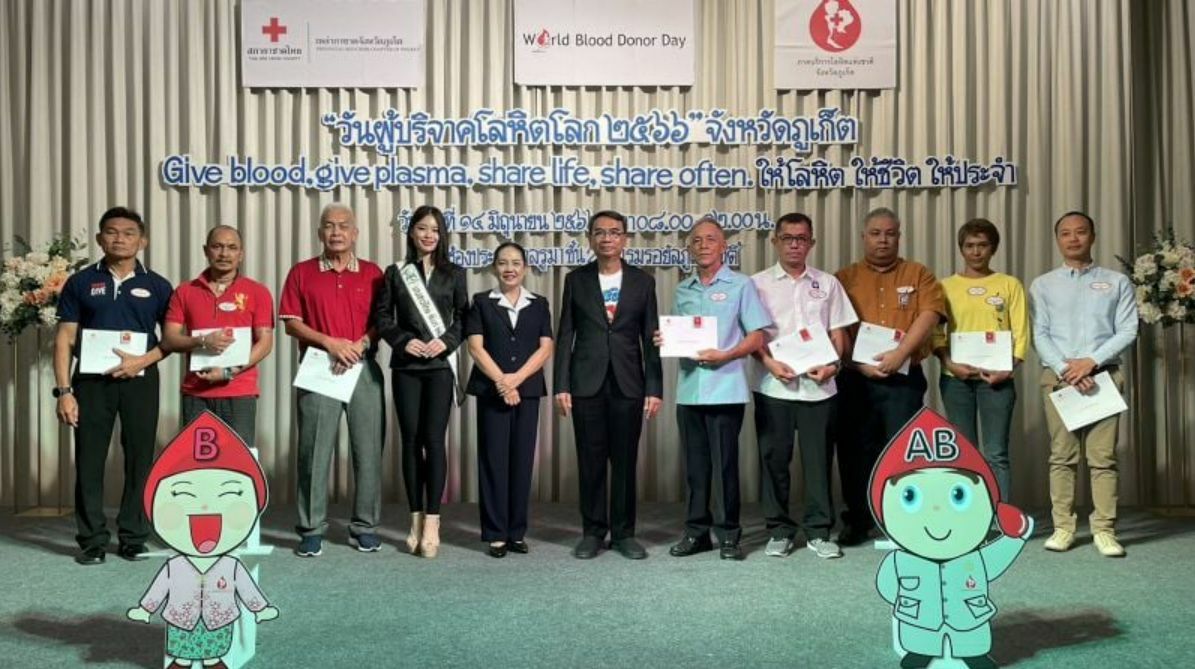 Photo by PR Phuket.
Phuket's branch of the Red Cross Society of Thailand and associated authorities recently organised a World Blood Donor Day event to express their gratitude to blood donors. This global event on Wednesday (June 14) recognised the importance of donating blood, ensuring that life-saving medical procedures can be performed when required.
Taking place at the Royal Phuket City Hotel, Vice President of Phuket Red Cross Society Naiyana Yodrabam welcomed both Thai and foreign blood donors to the event. The Phuket Red Cross Society operates the Phuket Regional Blood Center (Phuket RBC), one of the island's primary blood banks. In addition, Miss Thailand Phuket 2023, Passanan Tadam, and Miss Thailand Phang Nga, Warisara Angkitanon, both extended their appreciation for the generosity of the blood donors.
The blood donor day event's motivating slogan was "Give blood, give plasma, share life, share often." Attendees were given commemorative T-shirts to honour their contributions. Additionally, special souvenirs were presented to those who completed over 10 donations, while brooches of honour were awarded to donors with 96, 84, 72, 60, or 48 donations.
In her speech at the blood donor day event, Naiyana highlighted the ongoing need for blood donors in order to maintain a reliable blood supply for medical treatments. She also mentioned how the donated blood in Phuket helps other provinces when they require it for transfusions, reported The Phuket News.
While all blood types were welcomed, Rh-negative blood is particularly in high demand as it is rare amongst Thais. Individuals on the island can contribute by donating blood daily, including weekends and public holidays, at the Blood Bank on the 4th floor of Vachira Phuket Hospital and at the Phuket RBC in Phuket Town.
Additionally, Vachira Phuket Hospital and the Phuket RBC organise mobile clinics monthly, enabling locals to donate blood near their workplaces or places of residence. The invaluable donations from kind-hearted individuals help save lives, and joining together in donating blood reaffirms the notion that it is essential in making a difference within local communities.
Phuket News Thailand News