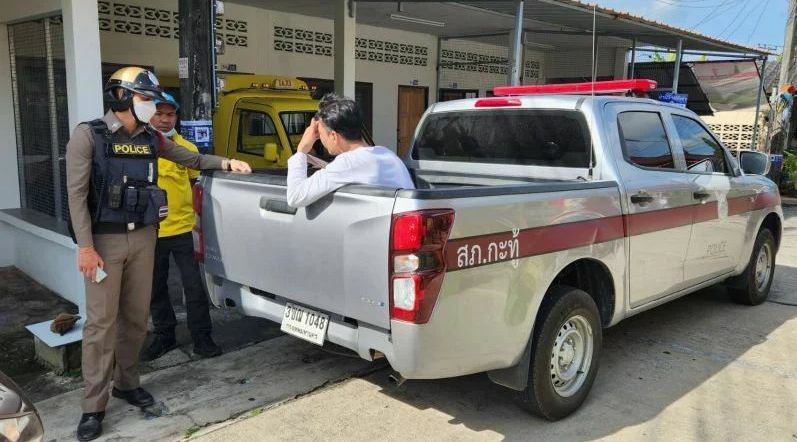 Man reportedly held wife at knifepoint, photo by Eakkapop Thongtub.
A man in Phuket allegedly used a knife to threaten his wife and prevent her from leaving their house yesterday. Kathu Police said they were alerted that a man was using a knife to force his wife to remain inside the house on Soi Ketho Soi 6, The Phuket News reported.
Fifteen officers arrived at the house with long-handled prongs. The officers called for the man to come outside peacefully. The wife opened the door and the officers then arrested the man.
The man, 37 year old Worawut Thongsuek, said that he was in a state of anxiety, and he had previously used Yaba and crystal methamphetamine, officers reported.
The police took Worawut to be tested for drugs. It was not yet confirmed what charges he would face.
The police reported that Worawut worked in security at the Pruksa Ville Kathu housing estate.
This news comes just a week after another harrowing alleged incident of domestic violence against a woman in Phuket.
Last week, a man allegedly beat his Russian ex-girlfriend in the island province. The victim, 32 year old Julia Bolshakova, reported to Chalong Police on January 13, immediately after she left Chalong Hospital following the attack. A medical report confirmed multiple contusions from Bolshakova's ex punching her in her face and head.
Domestic violence, and violence against women, are problems across the globe, and Thailand is certainly no exception.
Some Thai officials are pushing for laws to protect women from violent criminals. In November, it was reported that criminals put away for violent crimes against women in Thailand would soon have to wear an electric monitoring (EM) ankle bracelet for up to 10 years after their release.
The new law – Measures for the Prevention of Repeat Offenses in Sexual or Violent Crimes Act – aims to reduce the chance of reoffending, prevent violence against women and make it easier for police to detain dangerous criminals if they do turn back to crime after being released from prison.