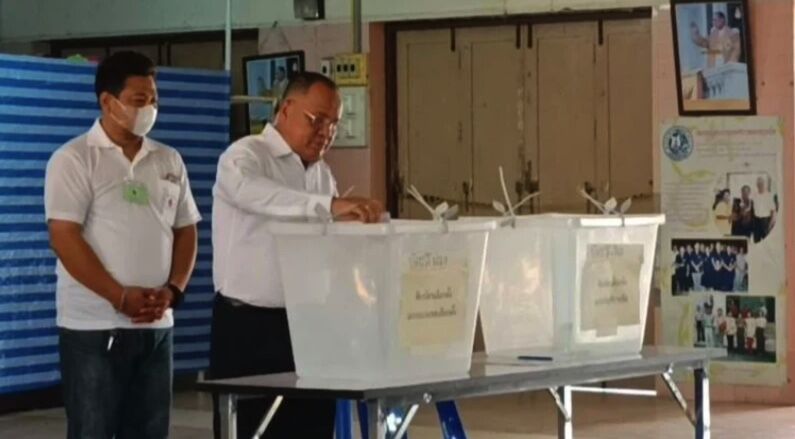 Photo by PR Phuket.
Phuket Governor Narong Woonciew kicked off the General Election process on the island by casting the first vote at the Phuket Auditorium in Phuket Town today. The Phuket Auditorium, located at the government administration centre on Tha Kraeng Road, is one of 22 polling stations established throughout the Talad Yai sub-district of Phuket Town. Candidates are vying for Constituency 1 in the election.
For the first time, Phuket has three seats for Members of Parliament in the House of Representatives up for grabs in a national election, The Phuket News reported. Governor Narong encouraged the public to exercise their right to vote and noted that they could resume their daily activities after casting their ballots.
A total of 377 polling stations have been set up across the island. Orapin Acheevasuk, Director of the Phuket office of the Election Commission of Thailand, hopes voter turnout will be as high as 80%, but no less than 70%. She noted that 798 voters have already cast votes at the Phuket Auditorium polling station.
Voters appeared enthusiastic and no instances of aberrant behaviour have been reported, according to Acheevasuk. She said…
"The 377 polling stations in Phuket are ready in all aspects to accommodate and facilitate voters, who have been gradually arriving since this morning."
Polling stations opened at 8am and will close at 5pm. Acheevasuk said…
"Today the weather is very good. It is not hot and [so far] not crowded. The election atmosphere so far has been smooth, and there have been no reports of irregularities."
Acheevasuk anticipates around 800 to 1,000 people will turn out at each polling station throughout the day. However, she advised people to spread their arrival at polling stations across the day to prevent overcrowding when the polls close at 5pm.
Acheevasuk reminded voters that they will receive two ballot papers: a green one for selecting a candidate, and a purple one for voting on the allocation of party list seats. She warned voters not to take pictures of or damage their ballots, as it would be considered a criminal offence.
After the polling stations close, the counting of votes will begin, which is expected to take three hours. Unofficial results are anticipated around 8pm, said Acheevasuk.