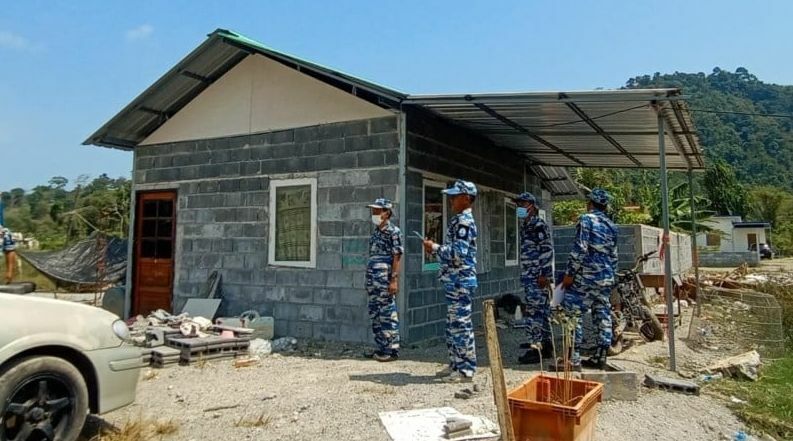 An illegal house in a mangrove area, photo by DCMR.
Officials found illegal houses encroaching on a protected mangrove area in Phuket. The team of officers from the Mangrove Resource Conservation Division of the Department of Marine and Coastal Resources (DMCR) found the six illegal houses on Wednesday.
The team found the illegal houses on Soi Rong Foam in Moo 1 in Ratsada. The houses had been built in an area that has already seen eviction notices and criminal charges served. This was after the area was seized under a criminal case filed with the Phuket Provincial Court on January 13.
The team is now investigating the construction of the houses. The team intends to present the evidence to Phuket City Police in order to charge the offenders, according to the DMCR's report.
The team also inspected a site on Soi Sorngkul, Moo 1, in Chalong. The team found that earthworks had been conducted there to level the land. Crops had also been planted nearby, although not in the mangrove forest area, The Phuket News reported.
The DMCR said the team would coordinate with the Royal Forest Department to further investigate.
Chalong's Soi Sorngkun area, just south of Phuket Villa 3, has been a battleground of encroachment in recent years.
Last year in the neighbouring Klong Mudong area in Wichit, an entire community was displaced from a protected mangrove forest area after an inspection in May. Today, the displaced residents are still seeking new homes.
Phuket is home to several mangrove forests that play an important role in protecting the island's coastline and marine life.
Mangroves play a crucial role in protecting the coastline from erosion and storms. The tangled roots of mangroves help to stabilize the soil and absorb wave energy, reducing the impact of storm surges.
Phuket's mangroves are also home to a variety of wildlife, including crabs and numerous species of birds.
Despite their importance, Phuket's mangroves are threatened by development and pollution. Various conservation efforts have been put in place to stop this.
In June last year, almost 1,000 mangrove trees were planted in another area of Thailand. Hong Kong's flag carrier Cathay Pacific has planted 999 mangrove trees in the Khlong Khon Mangrove Forest in Samut Songkram, central Thailand as part of its "1 Ticket, 1 Tree" initiative.