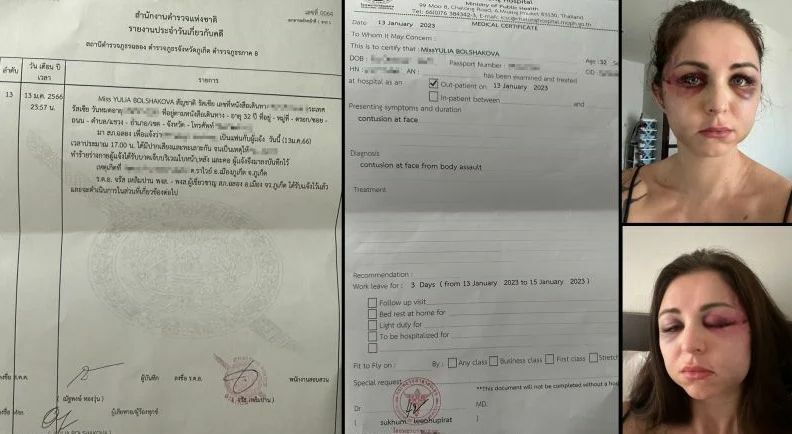 Photo by Julia Bolshakova, via Novosti Phuketa.
A man allegedly beat his Russian ex-girlfriend in Phuket, a local news outlet reported yesterday. The victim, 32 year old Julia Bolshakova, reported to Chalong Police on January 13, immediately after she left Chalong Hospital following the attack.
A medical report confirmed multiple contusions from Bolshakova's ex punching her in her face and head.
Bolshakova appealed to the police for protection after her ex repeatedly came to her house to threaten her again on Saturday and Sunday (January 14-15).
Bolshakova told the Phuket-based Russian language news outlet Novosti Phuketa that her ex came when she was waiting for a friend, and the door was not locked. She said…
"January 15 afternoon I was waiting for a friend at home. The door was not locked. He came in, began to threaten me again, forced me to write a receipt for the money he spent on me, then crumpled it up and wanted me to eat it."
Bolshakova said she then wrote another receipt "under pain of reprisals." She said her ex took the receipt, and her Russian passport away. He said that if she didn't stop, there would be "consequences." Bolshakova's friend came half an hour after her ex showed up, and he then left with her passport.
Bolshakova said she was reaching out to officials through the media because she feared for her life, as she continued to receive threats.
In an online post, Bolshakova said that her ex beat her because of their breakup. She said he threatened her to retract her police report "or there will be consequences."
Bolshakova said her ex lives in Phuket and works illegally as a masseur at a well-known resort there.
She said before she filed her complaint, her ex bragged that he was not worried about her going to the police because he had enough "influence" with local officers.