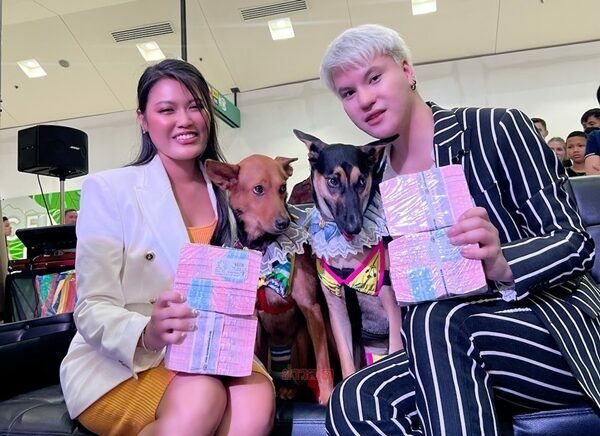 Picture courtesy of Khaosod
Yutthaphum Kaewkhem, also known as Boom, owner of the Teay Ka Ta pork barbecue page and restaurant, received a surprising half a million baht from a fan during an event in Phuket. The generous fan wanted to support Boom's efforts in helping stray dogs and cats, and the money will contribute to these charitable causes, among others.
Yesterday, during an event where Boom had been hired to cater, a fan surprised him with over 400,000 baht (US$11,504) in cash, packed in plastic bags. With Boom's event fee included, the total sum exceeded half a million baht. Despite initially being taken aback, Boom was grateful for the unexpected donation, reported Khaosod.
The fan explained that they were moved to donate such a large sum due to Boom's history of using his personal funds to help stray animals, as well as the charitable causes operated by Boom's pork barbecue business. These causes include providing free meals to local people in need, disabled individuals, older people aged 80 and older, children under five years old, waste collectors, and rescue workers.
Boom shared that the fan wanted to contribute and help society, as they were aware that the money would be used for animal welfare and other social causes. He further expressed his gratitude to his loyal fan base, who have consistently supported him and his pets. In the past, fans have replaced furniture damaged by pets or bought them new mattresses and larger beds. Boom revealed that apart from his two well-known animals, he also takes care of more than 45 dogs in total.
"I want to thank the fans who love and support me and the pets so much. No matter what happens, they are always there for us." Yutthaphum said.